Greater China Avid Learning Partner - Professional Center
Greater China Avid Learning Partner - Professional Center.
"We are pleased to announce that Digital Media Technology (DMT) has been chosen by Avid as the only Greater China Avid Learning Partner - Professional Center."
This proves that DMT can provide the appropriate training environment to deliver the authorized training content developed by Avid in the region.
The purpose of providing these training courses is to enhance the users' knowledge of productions in Video Editing, Asset Management, media file collaboration, support professional with installing, configuring and troubleshooting Media Composer, Media Central, NEXIS & Interplay.
"We are honored to be chosen as the only Greater China Avid Learning Partner – Professional Center. DMT has been an Avid dealer since early 2000 and we have been working hard to provide the best products and solutions there is to our customers in Greater China area. Now that we became an ALP, we will be able to provide the professional knowledge that the region has been thirsty for in years." said Clement Choi, Managing Director of DMT.
Avid Country Manager, Greater China, Ivan Pang said, "The Avid Learning Partner (ALP) program is designed to provide the assurance that you can get quality training on Avid's products and solutions to the standard and location that meets your needs. We are now able to deliver the Avid Professional training in Mandarin & Cantonese by DMT, these training courses will be more accurately focus on the operations & workflows needed in this region."
Avid Certified User for Media Composer
Becoming an Avid Certified User for Media Composer verifies that you possess a fundamental understanding of and the capability to use Media Composer, together with a firm grasp of the core skills, workflows, and concepts of non-linear editing on the Avid Media Composer system.

Once certified, you will have the opportunity to further deepen your Media Composer expertise and add to your credentials by pursuing one or more of the follow on Media Composer certifications, such as the Avid Certified User for Media Composer | NewsCutter Option, Avid Certified Professional in Media Composer, or even an Avid Certified Support Engineer for Media Composer.
Avid Certified Support Representative (ACSR)
The Avid Certified Support Representative (ACSR) portfolio of practical hands-on training courses, each with a Certification to ensure the required level of skills and capabilities has been attained; future proofs an organizations success in the media industry.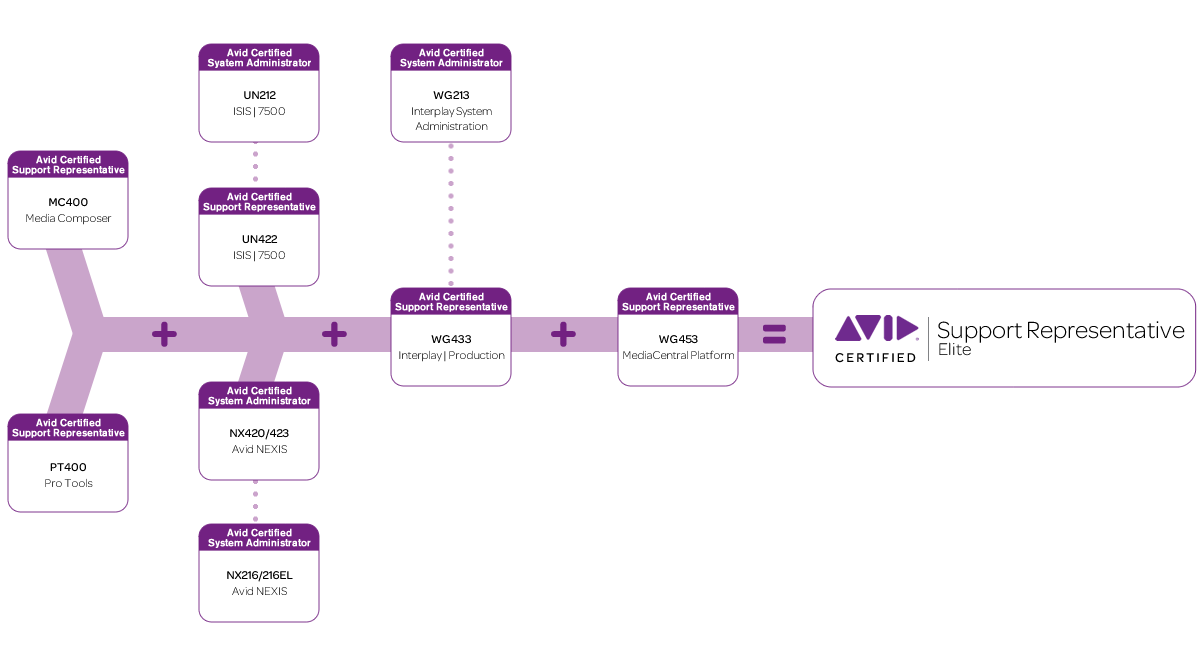 Whether an Enterprise customer, an Avid partner, or an individual working within one of these organizations wanting to develop and validate your technical skills, this progressive multi-level training and Certification program can be mapped to your specific needs. What's more, once ACSR status has been achieved by passing the relevant exam, you will have access to the global ACSR community for support and peer-to-peer communication, as well as a growing host of other benefits as an ACSR.
For those already Certified looking to update their skills and maintain their Certification status there is a range of classroom or live virtual classroom training as well as remote Certification exam options, making it easier, faster and more affordable to keep your technical proficiency up to date and Certification status current.
The Avid Certified Support Representative: Media Composer certification is designed for individuals working in an environment running Media Composer systems. Whether you want to be certified yourself, or certify your employees, the ACSR: Media Composer certification offers real value and significant benefits. Like all Avid certifications, it is recognized by top post-production, movie, television, and broadcast facilities worldwide and serves as validation of a person's skills to get the job done.
The ACSR: Media Composer certification demonstrates that you have the technical and operational skills needed to install, manage, support and troubleshoot Avid Media Composer editing systems in any configuration, on the Macintosh or Windows platforms. As an ACSR, you become the front line of defense in keeping the facility running smoothly. If you need backup support, your ACSR status gains you access to Avid's senior support team and will connect you to the worldwide community of Avid Certified Support Representatives.

The Avid Certified Support Representative (ACSR) for Avid NEXIS certification is designed for those personnel who are responsible for these high-performance, mission-critical systems. Whether your system hosts the next great movie release, or millions of dollars of digital broadcast assets, you need the confidence that your organization has the skills to keep it running at peak performance and maximize the investment made.
Achieving the ACSR for Avid NEXIS certification status demonstrates an individual's ability to install, configure, administer and support an Avid NEXIS system, along with the ability to connect, configure, and troubleshoot the system.

The We offer two different versions of the ACSR: MediaCentral Certification. The first is for the legacy platform—ACSR: MediaCentral Platform. To be able to take the legacy certification exam candidates must hold the certification status of ACSR: Interplay | Production.
The second type of MediaCentral certification is for our latest platform—ACSR: MediaCentral | Cloud UX. Candidates are encouraged to hold the certification status of ACSR: Interplay | Production, but it is not required.
Please contact us for the Training Schedule.
BENEFITS
Avid Certified User for Media Composer allows you to:
Demonstrate your user skills and that you have a firm grasp of the core skills, workflows, and concepts of non-linear editing on the Avid Media Composer system
Provide measurable benefits to your employer
Differentiate yourself from peers
Make your résumé stand out and leverage the power of the Avid brand with downloadable Avid Certified User logos
Prove your credentials with a Certificate of Achievement
Gain recognition from your employer and peers with our online Certified Professional listing
The ACSR: Media Composer certification provides:
Industry recognition of proven expertise as a technical professional who understands how to install, configure and support Media Composer systems
Access to the ACSR technical community for peer to peer communication
A certification logo to add to marketing materials, websites, business cards to differentiate yourself and your organization
Entry in Avid's Certification Registry accessible via the Find a Certified Professional online listing, as well as a Certificate of Achievement
The ACSR: Elite certification status provides:
The highest level of Industry recognition of proven expertise possible as a technical professional who understands how to install, configure, and support Avid products and systems
Access to the ACSR technical community for peer to peer communication
Recognition by peers and employers of your superior Avid technical skills and capabilities
A specific ACSR: Elite certification logo to add to marketing materials, websites, business cards to differentiate yourself and your organization
Entry in Avid's Certification Registry as an ACSR: Elite accessible via the Find a Certified Professional online listing, as well as a Certificate of Achievement
The ACSR Avid NEXIS certification provides:
Industry recognition of proven expertise as a technical professional who understands how to install, configure and support Avid NEXIS
Access to the ACSR technical community for peer to peer communication
A certification logo to add to marketing materials, websites, business cards to differentiate yourself and your organization
Entry in Avid's Certification Registry accessible via the Find a Certified Professional online listing, as well as a Certificate of Achievement
The ACSR: MediaCentral certification provides:
Industry recognition of proven expertise as a technical professional who understands how to install, configure and support the Avid MediaCentral Platform
Access to the ACSR technical community for peer to peer communication
A certification logo to add to marketing materials, websites, business cards to differentiate yourself and your organization
Entry in Avid's Certification Registry accessible via the Find a Certified Professional online listing, as well as a Certificate of Achievement